Last night was The Killers concert at Vector Arena. Ahh the Killers. There is a little story about me and them... actually, there is no "me and them", but:
I was working at the Foundation a million years ago and a co-worker's sister sent him a bunch of CDs from the UK. He gave me a copy of The Killers, The Bravery, and The Stills. I always remember that day as the 'The' day - suddenly 'The' bands had reemerged!
And to this day I LOVE all three of those bands (and they are all still around, with all having released at least a second album). It's painful as I should be able to say: "Plus I have seen all three live". Alas I am still smarting from my The Stills debacle. I have however seen The Killers (twice) and The Bravery (once).
I saw The Killers at the 2007 Big Day Out; they rocked the fuckin house. Still, it was a festival. Last night was the first time The Killers have played a proper concer in NZ.
I was running a wee bit late to meet friends (seriously stressed out week at work; crazy shit). We still made it inside before the opening act though (Kiwi band The Checks). A few beers and a good gossip later... oh and two accidental meetings with the same work colleague... the main act came on. O.M.G.
Let me say: the concert was awesome. The show-stealer was Brandon Flowers. I had no idea he was that enigmatic on stage - he was the centre of attention and with good reason!!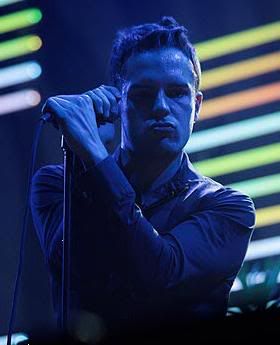 The setlist was varied and pretty goddamn perfect - the whole crowd sang along, often while bouncing manically (turns out semi-moshing is still alive). Auckland got: Human, This is your Life, Bling (confessions of a king), Somebody Told Me, For Reasons Unknown, Mr Brightside, I Can't Stay, Smile Like You Mean It, Read My Mind, Spaceman, All The Things I've Done. Encore: Bones, Losing Touch, Jenny Was a Friend of Mine and When You Were Young.
The stage was Las Vegas cheese, but it worked for them (blow up palm trees, mirrored piano, fairy lights, and a spectacular curtain of pyrotechnic sparks at the end).
Sticking with this year's new tradition, below is the montage.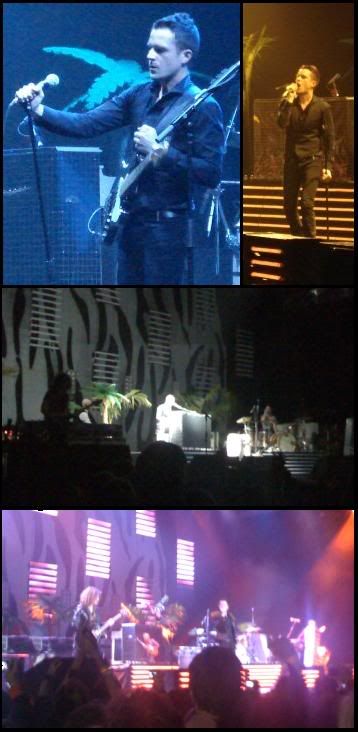 Sadly that was the last of my previously whole stocked pile of tickets. This year has been good to me so far. Bar missing the Big Day Out, I've managed: Ryan Adams, NIN, Cold Play, Kings of Leon, and The Killers.