All I can say is this would've been *awesome*! I mean, I got to see them twice, but the 1000 odd people at this gig must've been in heaven!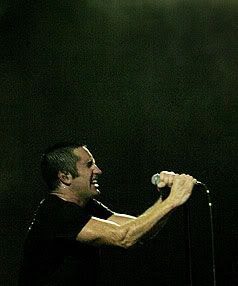 Nine Inch Nails fans in New York got more than they bargained when the rock band played its 1994 classic The Downward Spiral in its entirety for the first time ever.
The Trent Reznor-led act, on a Wave Goodbye tour of small venues, had the 1000-strong crowd at Webster Hall drenched in sweat within minutes of launching into the punishing rock of Mr Self Destruct.
It was soon clear that the band was plowing through Downward in sequence. Reznor later told the audience, "I've always wanted to play that whole record, and this seemed like the time to do it."
The Downward sequence of course featured Nine Inch Nails' iconic single Closer, which wasn't played the night before during the band's stop at the 550-capacity Bowery Ballroom, and finished with the hushed Hurt, which became known to an entirely different audience thanks to Johnny Cash's memorable 2002 cover version...
Read the rest at
Stuff.co.nz