It's been a long couple of weeks. Today, TGIF, I'm feeling progressively more on the border of a bad mood. I'm trying very hard not to get grumpy... but the tiredness is getting to me.
But enough of that!
Last week I was in Nelson. This week was Palmerston North. Both trips went well (but have added considerably to my exhaustion).
I finally finished a book called 'John Dies at the End' - one of the weirdest books I've ever read. Not sure whether to tell you if John actually dies at the end or not... It was more than 2 weeks overdue from the library. I'm too scared to check what the overdue fees have amounted to. Also overdue, 'Angel Time' by Anne Rice - so far it's lame.
I've had The Pixies on high rotation the last few days - I have their concert next Friday! Other than that, I have been really enjoying Portishead's Trip-Hop Reconstruction, which friends gave me, and I *completely* forgot was on my player. Also, I have the next four or so tracks for my latest mix-tape picked out - they are wee gems from bands I had never heard of before.
Our landlady took a potential buyer through our place... again. At least she said she was going to... We cleaned and tidied like crazy Wednesday night (at least the place is neat for the weekend). We've been there three years though. Let's hope moving out isn't in the near future.
I watched 'The Hurt Locker' - I've not watched a film as tense as that for ages. It was brilliant though. It deserves to win over 'Avatar' as far as story goes. Yes, 'Avatar' was incredibly visually, but its story? To quote someone else (who I can't remember): it's Pocahontas with smurfs.
Things with my man are going well. I met The Mother last weekend for lunch. Rob and I drove out to Bombay (great drive in gorgeous weather) - his mother lives out that way. We all met at Bracu Restaurant (check it out
here
), which is part of the Bracu Olive Estate (and it turns out the source of my FAV hand-cream from the Simunovich range). The most awkward moment was the hand-shake-or-hug-kiss-dance I did with his mother when meeting her (we finally settled on the hug/kiss). The food was delicious (I had the lamb), the conversation un-stunted (great company), and the setting glorious. In my opinion, it went well, and I think she liked me! I've not had this confirmed however...
I also received a semi-surprise parcel from Mel (UK goodies). Thanks for making my day! Mel, I've already used the wee bag - in fact I used it today; it's sitting at my feet full of my shopping :)
I've raced through 'Sons of Anarchy' season one and two. Frickin awesome show. I have to wait until September 2010 for the start of the third season (in USA). I'll tell ya, it brings out the bad-boy love: Charlie Hunnam as Jax teller is just... yum. (Photo below)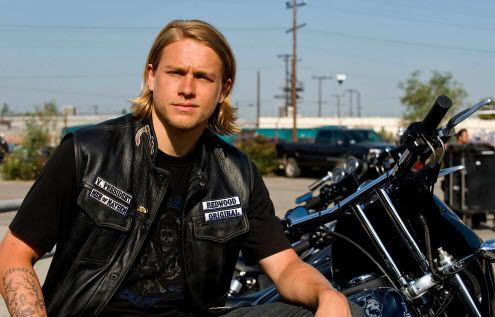 I'm also enjoying 'Big Love' season four, no matter what others say. We watched episode seven last night - what a stunner! When that machete came down... *shudders*
Check out my
TV page
(which I try to update), for other shows
This weekend - my diary is blank; not an entry. This may change of course (already have a potential, but undiaried, dinner with mum and dad on Sunday). But if it doesn't I won't be cut up. As a typical girl I will however be cut up if Rob doesn't ask me to do something. Now you're asking: Why don't YOU ask him to do something if you want to do something? Well, the answer is: I am happy to mooch at home the whole weekend... but it would make me feel good inside if he asked me out (I've called; voicemail. And texted 3 or so times the last few days. I haven't really had anything back - nothing to worry on. I just miss his sweet 'I'm thinking of you' texts).
Oh, highlight of a boring day: calling our Director of Research and Consultancy, a 'Media Mongol'. Seriously. He'd just been interviewed for TV, and his quotes were used on the radio news. After I said it, my brain ticked over for a few seconds... and I realised my mistake. I bit my tongue a moment longer, then out loud said: 'Of course I MEANT to say Mogul' - and by then everyone had puzzled looks on their faces (they had also just clicked to my stupidness). Laughter ensued. I wonder if my slip-up will come back to haunt me.
Loving: Yahoo IM for BlackBerry (way to cheat the system - my work's IT system that is), Pepsi Max (better tasting than Diet Coke IMO), Girl Guide cookies (Yes it's that time of year again - bring on the chocolate coated ones!!), and Fanfarlo (the album is FAB).
Hating: My bank (where is the replacement card for the one that got wiped on YOUR ATM weeks ago?!)
Also Loving: this picture. Had to include the caption too (another Topless Robot gem)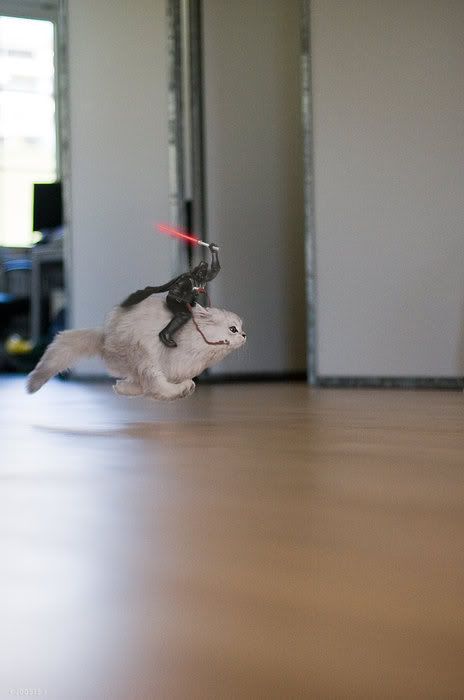 If a picture had 1,000 thousand... my guess is that for this picture, 500 of those words are "fucking" and the other 500 are "rad."